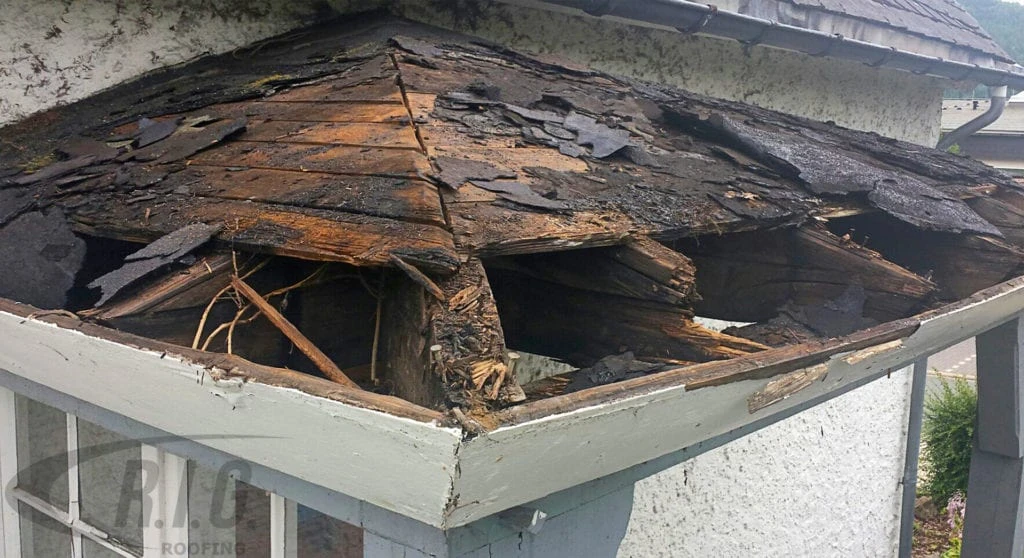 As a homeowner, you have a lot of responsibilities. However Ignoring A Leaking Roof Can Ruin More Than Just Your Day!
When you notice a roof leak, getting it fixed should become your first order of business. A leaking roof can ruin your day, but if left unattended it could also ruin your home. In fact, some roof leaks are so sneaky that your home may already have sustained significant water damage by the time it is detected. Don't panic, the roofing experts at R.I.G. Roofing will help you understand the hidden dangers of a leaking roof so you can be prepared should one arise.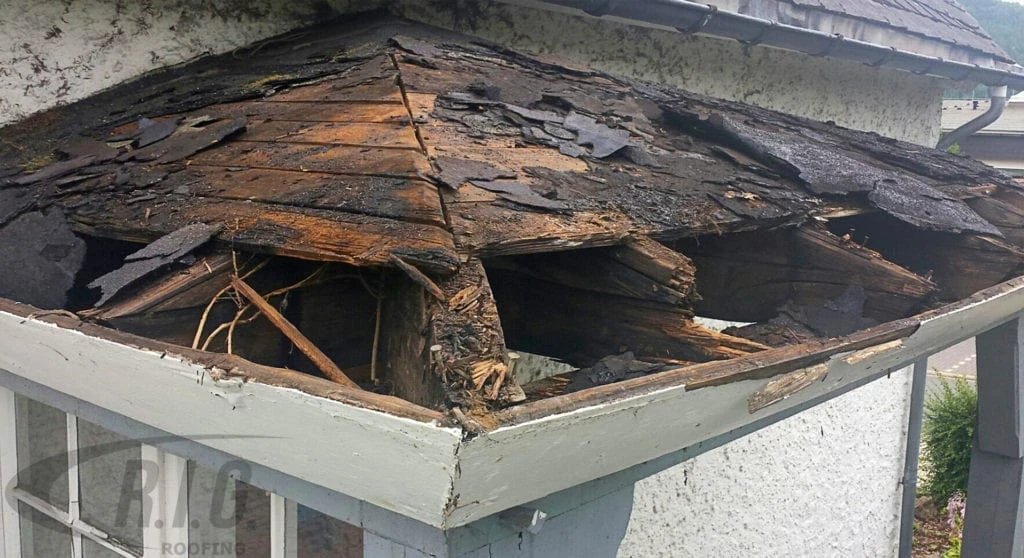 A Leaking Roof Can Ruin More Than Just Your Day - Roof Damage Repair by RIG
There May Be Several Causes Of A Leaking Roof.
Your roof may spring a leak due to lack of maintenance. Or an improper installation could be the cause of your leaking roof. Roof leaks can also happen as a consequence of severe weather and storms —we're looking at you Florida summers. Given that the lifespan of a typical roof is between 20 and 30 years, a leaking roof could signal a looming replacement.
Why Are Roof Leaks Dangerous?
The potential effects of a leaking roof go far beyond just the structural risk. Your safety and health also might be in jeopardy. A roof leak can damage priceless items stored in your attic, the drywall in your home (hello mold spores), and even your flooring. The longer a leak is allowed to spread, the more potential damage can happen.
The first signs of a roof leak will be evident in your roof decking, attic or ceiling. Evidence may include darkened (damp) areas on your ceiling or physical water droplets. Ceiling-mounted lights and fans also can be damaged by a leak, which could effect electrical systems in your home.
Additionally, mold and mildew are subsequent health risks from a leaking roof. Once it sets in, mold can spread quickly to your flooring, furniture, and even your clothes. The potential health effects of mold exposure include asthma, nasal congestion, inflammation, and eventually even more serious ailments.
Sadly, the effects of water damage due to a leaking roof do not end there. A leaky roof could cause wires to short, leading to an electrical fire. As soon as you identify a leak, please turn off electricity to the area of your home that has been impacted.
How Can I Spot Damage From A Leaking Roof?
Spotting the early signs of a leaking roof can save you a good deal of money. Signs of water damage can include peeling or bubbling paint, water spots on the ceiling, or dripping water. If not identified and treated in a timely manner, a leaking roof can cause serious structural damage to your home. If your rafters, ceiling joists, or wall frames become damaged you may have to have a part, or all of your home rebuilt.
Roof Repair In Lakeland and Central Florida
We hope you never experience a leaking roof, but if you do, remember that fast action is key. A quick repair could save you the inconvenience and cost of having to replace your entire roof. Call us today1 (863) 294-4477 or inquire online now!
RIG Roofing is Florida's Most Trusted Roofing Contractor
Free Residential & Commercial Roof Assessments | Repair or Replacement
If you've got roof problems, let R.I.G. Roofing be your lifetime solution. We are a faith based, family owned roofing contractor offering Free Roof Estimates throughout central Florida. After your roof assessment you can sit down with our roofing specialist who will walk you through their findings and recommendations while answering any questions you may have. If you'd prefer less in-person contact, we can leave our findings and estimate at your door and follow up with you via phone call. Most roof installations are completed in just one day and come with our unmatched 10 – 20 year workmanship warranty and 5 star customer service.
Request A Free Roof Assessment