Blog
Benefits of a Commercial PVC Roof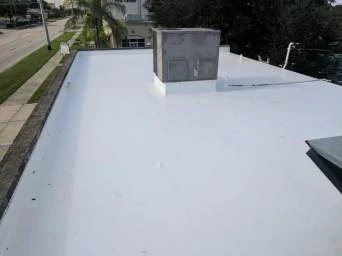 Easy to Install, New or Retrofit Roof
Mule-Hide PVC Roofing Systems install quickly in one pass with a small, trained crew. All the accessories you need to complete roof details around edges and penetrations are also available.
Energy Efficient Roof
White surfaces have been shown to reflect up to 78% of the sun's rays to reduce air-conditioning costs. The superb reflectivity of white PVC even reduces the heat build-up under the membrane. PVC white membrane adds to the aesthetics of the building while increasing energy efficiency.
Flexibility
The membrane remains flexible in hot and cold temperatures so it will not split or crack. PVC can handle the desert sun, sand, arctic freezes, and torrential downpours.
The Best Lifecycle
PVC provides excellent resistance to fire, UV, airborne bacteria, and industrial pollutants such as air conditioning coolants and degreasers. Reinforced membrane is engineered to remain dimensionally stable over time.
Lightweight yet Strong System
Weighing less than 1 lb. per square foot makes it ideal for new construction and retrofit installations without adding excessive weight to the roof deck. Stands up to repeated exposure to severe climates, high winds, building movement, and routine rooftop traffic.
Heat-Welded Seam Strength
Mule-Hide PVC roofs use a heat-welding process that fuses the membrane seams to form a permanent, watertight seal. Superior seam strength provides greater wind uplift resistance.
Code Compliance
UL and FM listed assemblies are available upon request.
Is A TPO Roof Right For You?
If your business would like to schedule an estimate for a TPO roof repair or replacement, please contact RIG Roofing 1 (863) 294-4477 No matter what type of roof you choose, you can trust our team of professionals at RIG Roofing. Our highly trained and experienced employees can skillfully complete roofing projects for commercial businesses and residential customers alike.
To have all your questions answered, call the RIG Roofing office near you or inquire online to schedule a consultation with one of our roofing professionals. 
RIG Roofing is proud to offer reliable and honest roof repair and replacement services to customers throughout the United States. Our home office is in Winter Haven, Florida; with satellite offices in Lakeland & Tampa and Port Charlotte