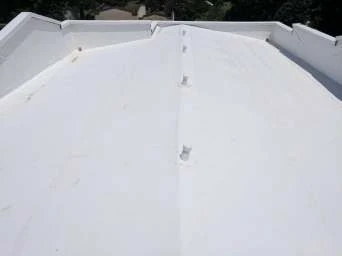 What Are The Best Flat Roofing Materials?
Flat roofing systems tend to have a negative reputation because of roofing methods and materials that were used in the past. The truth is flat roofs can be just as good as sloped roofing. At R.I.G. Roofing, we know that flat roofing materials have great qualities and are the right fit for certain roofing applications. Let's take a deeper look at the advantages and disadvantages of different types of flat roofing materials.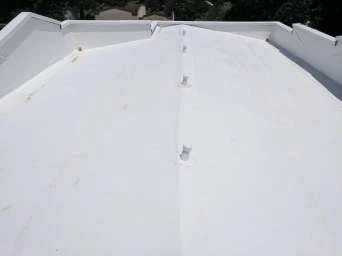 Your Flat Roofing Material Options in Central Florida
The most important thing you need to know is that when we speak of flat roofs, they are not truly flat. They have a subtle pitch—usually ranging between 1/4 to 1/2 of an inch per foot. That oh-so-slight slope is there to encourage proper drainage. Therefore, your roof will last longer with less required maintenance. So why do many people associate flat roofs with leaks, ponding water and repairs? Issues typically come when a flat roof is improperly installed, does not adhere to proper codes regarding slope or uses outdated materials. Luckily for those who are interested in flat roofs, R.I.G. Roofing has the training, expertise, and proper material options for you to choose from when installing a flat roof in Central Florida.
Traditionally, a flat roof consisted of what is commonly called "hot-mopped" roofing materials. Today, we offer flat roofing materials that can prolong the lifespan of your roof, defend against the elements, increase the aesthetic appeal, or correct an existing problem with pitch height or slope.
Read on for an analysis of flat roofing material types.
Single-Ply Membrane Roofing
Single-ply membranes are the new popular choice for flat roofing materials. Made out of a synthetic material measuring .06 or .03 inches thick, these materials do not add a lot of bulk or weight to your flat roof. Among the three most common types of single-ply roofing materials are
TPO (thermoplastic polyolefin), EPDM (ethylene propylene diene monomer) and PVC (polyvinyl chloride).
One of the pros of using a single ply roofing material is that they are long lasting - up to 30 years at peak performance! Single-ply membranes are easy to install and offer a Class A fire rating as well. The cons of using a single ply roofing material is that it comes in "sheets'' and therefore will have seams. These seams can be the source of leaks overtime. However, R.I.G. Roofing is equipped with the right equipment and expertise to seal single-ply roofing membranes correctly and effectively.
Modified Bitumen Roofing & Built-Up Roofing
Modified bitumen roofing has been in use since the 1960s. In turn, built-up roofing has been around since the 1900s. Modified bitumen uses reinforced polymer layers, or cap sheets, to create your roof. Built-up roofs use layers of asphalt to create a thick roof membrane, then fine-crushed stone is placed on top of these layers. 
The pros of modified bitumen and BUR are their durability and low maintenance after installation. Since these flat roofing materials are applied hot, it melts together forming a solid, seam-free surface that is almost puncture proof. 
The cons of using modified bitumen and BUR are that the surfaces are dark, which causes your building's HVAC system to work harder to cool your business, especially in scorching Florida summers. These roofing systems are also dangerous to install due to their hot applications and the vapors the roof gives off. BUR and modified bitumen also add weight to your building due to their hefty multiple layers. These older methods have had "their time in the sun" and are fading out thanks to new material choices such as TPO, PVC and EPDM.
Professional Flat Roof Installation in Central Florida
The bottom line is flat roofs are just effective and can provide all the benefits of a sloped roof, if properly installed. If you live in the greater Central Florida Area, there is only one roofing contractor you should contact about your roofing concerns. R.I.G. Roofing offers an unmatched workmanship warranty and amazing customer service. So, put your roofing worries aside and contact us today for any of your flat roofing needs.



To have all your questions answered, call the R.I.G. Roofing office near you or inquire online to schedule a consultation with one of our roofing professionals.
R.I.G. Roofing is proud to offer reliable and honest roof repair and replacement services to customers throughout the United States. Our home office is in Winter Haven, Florida; with satellite offices in Lakeland & Tampa and Port Charlotte.