Blog
Is It Time To Repair Or Replace Your TPO Flat Roof : Free Guide

If you have an active leak on your TPO roof contact a professional roofing contractor, like the experts at RIG Roofing, to Repair Or Replace Your TPO Flat Roof.
Have you ever heard of thermoplastic polyolefin? It's not just a tongue twister. Otherwise known as TPO, thermoplastic polyolefin is a single-ply roofing membrane that is one of the most popular materials used on flat, commercial roofs & mobile homes in Florida. In this article, we'll address the issue of water damage and why it causes serious issues for TPO roofs.

Why is water damage such a risk for TPO roofing?
When the insulation in your TPO roof becomes saturated with water, it becomes structurally damaged. It is recommended that if more than 25 percent of your TPO roof insulation gets saturated, then you need to replace the entire roofing membrane. Ignoring structural damage can lead to roof collapse. Repairing the leak before saturation levels reach this point has great cost-efficient benefits. Restoring or repairing a TPO roof costs $2-4+ per square foot on average. Compare that to $5-9+ per square foot to replace a TPO roof and you can see the significant savings.
Three common ways water seeps into a TPO roof.
Seams: The overlapping seams that make up TPO roofing membranes are chemically adhered. This bond can break down over time or the chemical bond may not have been heated properly during the installation process. If the issue is due to the later, you may be able to claim a workmanship warranty against the original installer, within your warranty time period of course.
Flashings: On any type of roof, flashing is installed to direct water away from vulnerable areas. If the flashings were shaped improperly, installed incorrectly, or have been damaged, then your flashing can become an entry point for water. Again, depending on the date the roof was installed, you could reach out to the prior roof installer with questions about their workmanship warranty.
Fasteners: TPO roofing is fastened down to an insulation board using screws. Then another sheet is welded over it. These screws can begin to pop out over time. Fasteners may also shift during the welding process or may have been poorly tightened when the roof was installed. If any of these happen, water will seep through the holes in the membrane made by the fasteners.
** RIG Roofing offers a 10 year workmanship warranty on every new roofing system we install.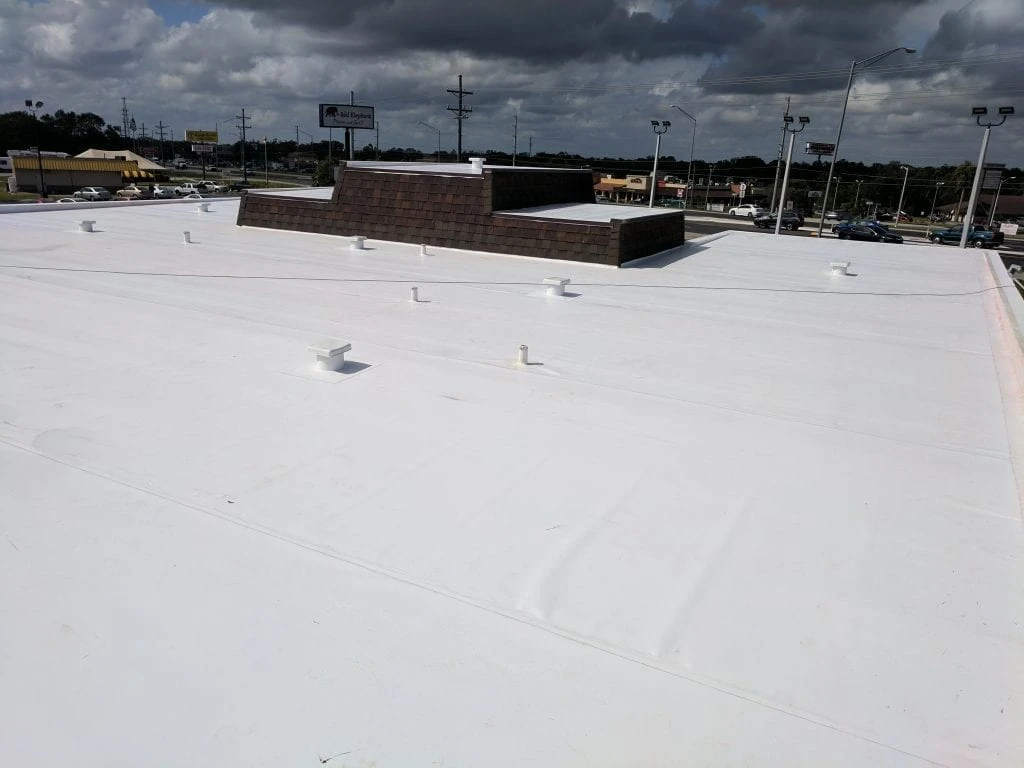 Are there repair options for a TPO roof. Short Answer, Yes.
There are generally two options for repairing water damage to a TPO roof. Knowing which option is best for your roof depends on the extent of the damage.
If the damage is minimal, typically defined as affecting less than 5% of the membrane, then a qualified roofing contractor simply can remove the affected area and replace it with new materials.
For intermediate damage—with saturation between 5 and 15% of the insulation membrane—the damaged areas will need to be replaced. Then a silicone coating system may need to be applied.
If at least 25% of the insulation gets saturated, the damage is considered severe—meaning the entire TPO roof could need to be replaced.
The only way to accurately determine the extent of repairs needed for your TPO roof is to have the roof inspected by a qualified professional like the ones on staff at RIG Roofing. Our Free Inspection will entail examining the damaged areas and pulling a core sample to determine what percentage of the membrane has been saturated.
RIG Roofing - Your Local TPO Roofing Contractor in Florida
If you own a mobile home or a commercial property in Central Florida, it probably has a TPO roof. Annual roof inspections are recommended. It is imperative to act promptly when damage occurs to help avoid a complete roof replacement. Schedule your free roof assessment today. If you live in Central Florida or the surrounding areas and your TPO roofing is leaking, you need to contact RIG Roofing now to repair or replace your TPO Flat Roof. Schedule an inspection online or call our office1 (863) 294-4477 .