Blog
Is Single-Ply Membrane Or Built-Up Best For A Commercial Roof?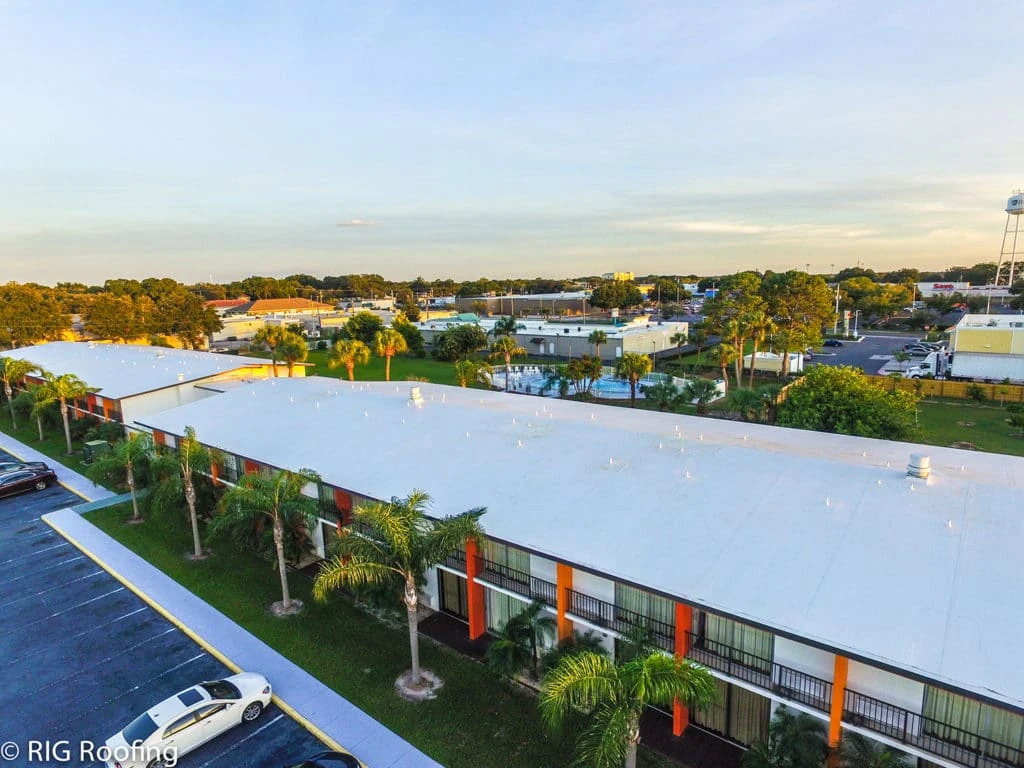 If your commercial roof is flat or low sloping and nearing the end of its lifespan you could be wondering what options you have when it comes to replacement. When choosing between two of the most popular options; a single-ply membrane or built-up roofing system you may have trouble deciding. R.I.G. Roofing has the information to help you choose the right type of commercial roofing application for your business.
Single-Ply Membrane Or Built-Up Roofing Systems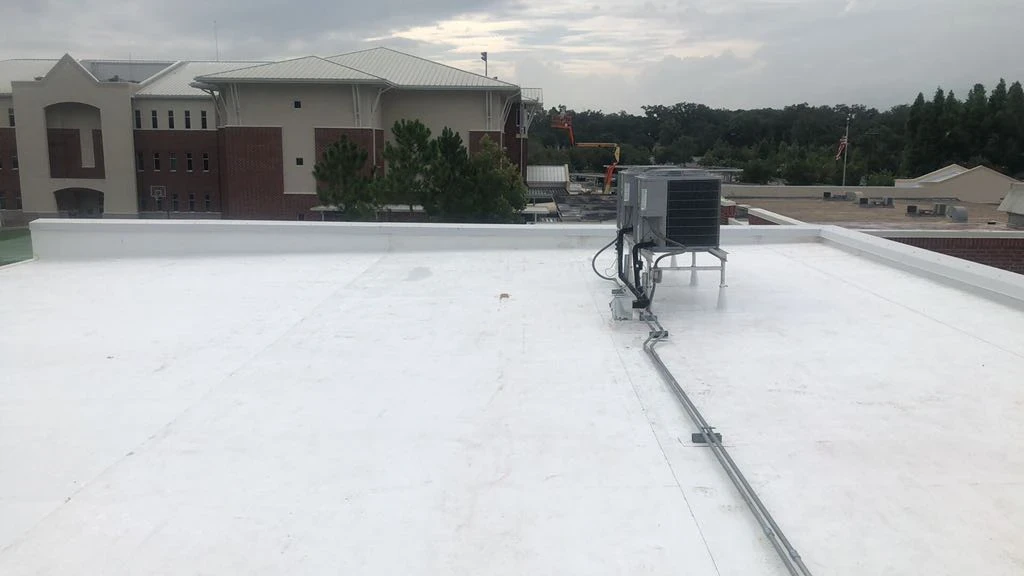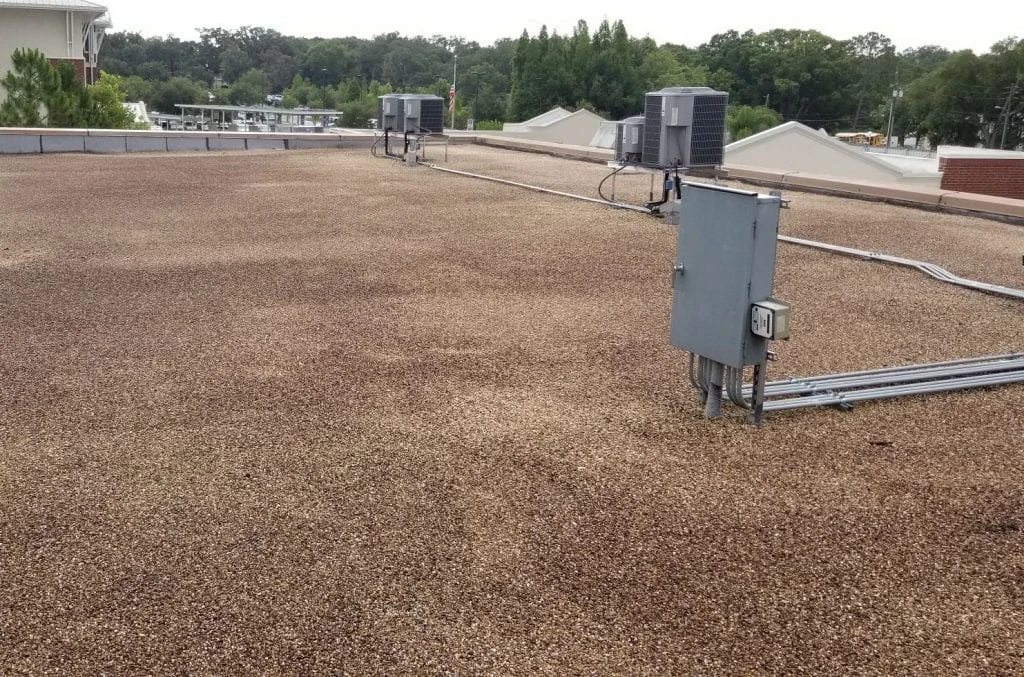 Single-Ply Membrane Roofing
This type of roofing is traditionally made of synthetic materials that are chemically adhered to insulation or ballasted. At R.I.G. Roofing, we use TPO (thermoplastic polyolefin) and PVC membranes. No matter which single-ply roofing membrane you choose, both are a good choice to protect your business in central Florida.
Single-Ply Membrane Pros:
30 Years of Life - When properly installed and maintained, single-ply membranes can maintain peak performance for up to 30 years.
Insulation Options - There is no insulation in single-ply roofing, which allows the customer the ability to choose from a variety of options.
Reflective - The white TPO and PVC single-ply membranes are reflective, lowering your air-conditioning costs.
Fire Safe - Fire-retardant chemicals added to the synthetics during their production mean that both TPO and PVC single-ply roofs are Class A fire-rated—a great feature to have in case of an accident.
Convenient - This system can be installed quickly.
Single-Ply Roofing Cons
Durability – Single-ply membrane is not as durable as other options. This roofing does not have a protective top layer. Therefore, dropped tools, gravel, and screws may become puncture synthetic material.
Seams – Seams exist on many roofing systems, including single-ply membranes and are always properly sealed for your protection. However, with any seam, they are more susceptible to water damage or leaking.
Details Can Be Tricky – If your commercial property has features such as skylights or vents, they will need special attention during installation.
UV Rays – The adhesives on a single-ply roof can deteriorate due to direct exposure to UV rays.
Built-Up Roofing Systems
Built-up roofing systems are more commonly known as "tar and gravel" roofs. Installation of these systems involves layering asphalt or tar alternatively with synthetic fabrics. The total number of layers is based on your preference. That last layer is traditionally a stone or gravel. These systems have been used for commercial roofing for more than 100 years.
Built-Up Roofing Pros
Long-Lasting - Built-up roofing can provide your Florida commercial building with 40 years of protection if properly installed and maintained.
Durable – Its continuous solid surface of tar and gravel does not require joints or seams. That reduces leak vulnerabilities as well as provides a rock-hard surface that can tolerate more foot traffic.
Easy – Built-up roofing requires little upkeep needed after installation.
Built-Up Roofing Cons
Higher Installation Costs – Built-up roofing has a longer installation time frame and requires more labor time.
Safety – The installation process produces dangerous fumes and vapors when installed.
Weight – Because if its layering, built-up roofing adds extra weight to the structure of your building.
Heat Absorbing - Due to the top layer of rock or gravel being naturally dark or accumulating dirt and grime in its crevices, these roofs have dark surfaces that attract and hold heat. This can increase your building's cooling costs, especially in hot Florida summers.
Central Florida Commercial Roofing Contractor
Both single-ply membrane and built-up roofing have their advantages and disadvantages. Actually it's quite common to get overwhelmed when choosing a roof system for your flat commercial roof. Don't worry, a call to the professionals at R.I.G. Roofing can remedy the situation. We will gladly offer our guidance and help you make the best choice for your business. Especially if you are choosing between a single-ply membrane or built-up roofing.
To have all your questions answered, call our home office at1 (863) 294-4477 or the RIG Roofing office near you or inquire online to schedule a consultation with one of our roofing professionals. 
RIG Roofing is Florida's Most Trusted Roofing Contractor
Free Residential & Commercial Roof Assessments | Repair or Replacement
If you've got roof problems, let R.I.G. Roofing be your lifetime solution. We are a faith based, family owned roofing contractor offering Free Roof Estimates throughout central Florida. After your roof assessment you can sit down with our roofing specialist who will walk you through their findings and recommendations while answering any questions you may have. If you'd prefer less in-person contact, we can leave our findings and estimate at your door and follow up with you via phone call. Most roof installations are completed in just one day and come with our unmatched 10 – 20 year workmanship warranty and 5 star customer service.
Request A Free Roof Assessment