Blog
What To Do When Your Commercial Roof Is Leaking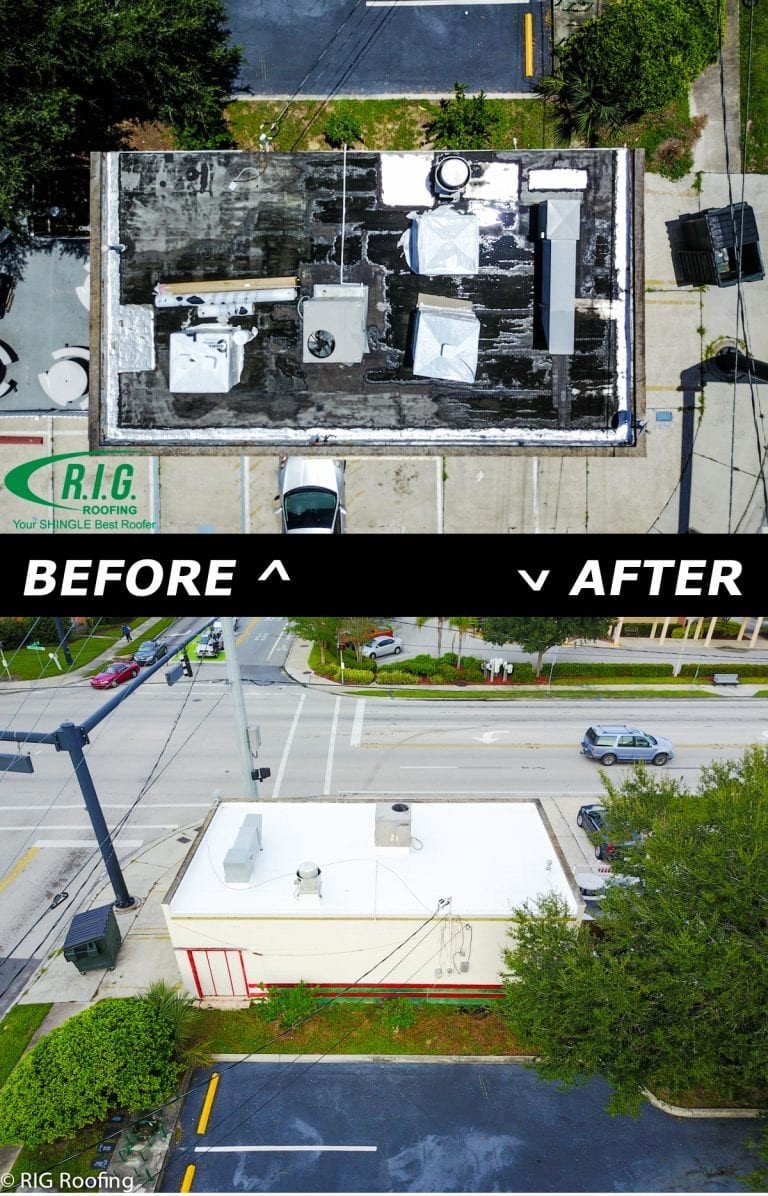 It's raining. It's pouring. Your commercial roof is leaking.....? Is that not how the nursery rhyme goes?
Well, regardless, if your commercial roof is leaking, you need to find the reason, and solve the problem as soon as possible. Otherwise, you could arrive at your building to find a soaked floor, damaged goods, an injured employee or hurt customer. Notice an existing leak or spot the signs of a soon to be a leak?
Don't fret, RIG Roofing is here for you. Our expert roofers have been helping business owners throughout Central Florida & the USA for over a decade. Read on to find out what you should do in the event of a leaky commercial roof. Can't wait, and need help fast? Call us now using the button above.
How Can I Tell If My Commercial Roof Is Leaking?
Stained Ceilings or Walls - Discolored ceiling tiles or water-stained walls are an easy way to spot a leak.
Funny Smell - If you notice a musty or damp smell, this could be a sign of mold. Mold is very serious. It can cause a variety of health issues and get out of hand fast.
Dripping or Puddling - Water is accumulating in strange places in your building. This is the most obvious sign that your commercial roof is leaking. A puddle may appear overnight. You may hear or see a drip when it's raining. That means it's time to act fast.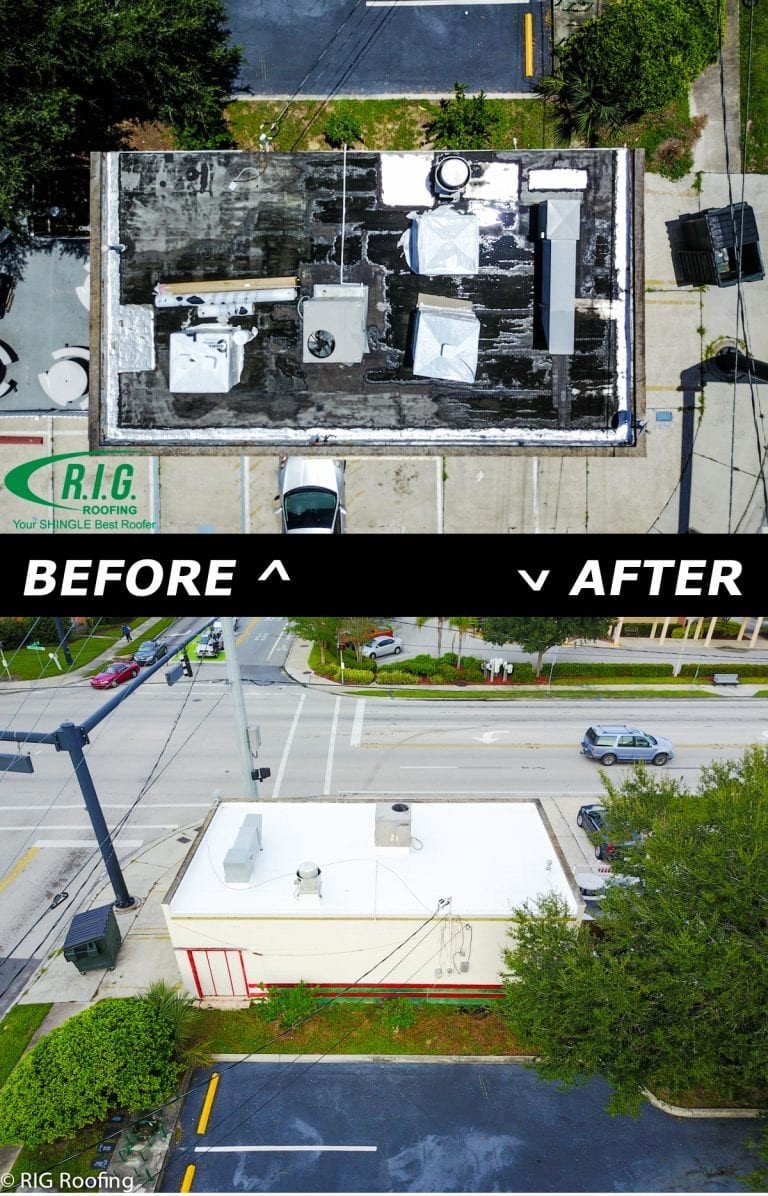 What Should I Do If My Commercial Roof Is Leaking?
First, don't panic. A leak in your commercial roof isn't the end of the world. Remember to stay calm and clear the area. That means clearing out all of the equipment, supplies, and people. If you can't relocate these items, cover them in plastic. (Except the people. Don't cover them in plastic.) Use a trash can or bucket to collect the water. Now, find the source of the water. Mark the area—use tape or paint of some kind. Visibly noting the water's point of entry will help you pinpoint the spot even after it stops raining. This will also help you correctly inform your roofing professional, and insurance agent if you are filing a claim. Check to make sure there are no more problem areas. Keep in mind, this is easiest to do while it's still raining. Last, and most important, contact a licensed commercial roofing contractor like R.I.G. Roofing as soon as possible.
Fixing Your Leaky Commercial Roof
Upon inspection of the leak and discovering the cause of the issue, we will devise the perfect plan for fixing your commercial roof. This could include any of the following:
Immediately repair the leak
Remove and replace any water-damaged support beams and roof decking
Replace the damaged roofing material
Replacement of the entire roofing system
Commercial Roofing Contractor In Central Florida
At R.I.G. Roofing, we pride ourselves on our dedication to serving our customers. We understand that when your commercial roof is leaking it can cost you big bucks. Replacing products and equipment, not to mention property damage and the costs of having to potentially close your business for repairs is a nerve-racking thought. We pray you never experience a leaky commercial roof but if you do, rest assured our professionals can fix it. Call us now1 (863) 294-4477 or inquire online.
RIG Roofing is Florida's Most Trusted Roofing Contractor
Free Residential & Commercial Roof Assessments | Repair or Replacement
If you've got roof problems, let R.I.G. Roofing be your lifetime solution. We are a faith based, family owned roofing contractor offering Free Roof Estimates throughout central Florida. After your roof assessment you can sit down with our roofing specialist who will walk you through their findings and recommendations while answering any questions you may have. If you'd prefer less in-person contact, we can leave our findings and estimate at your door and follow up with you via phone call. Most roof installations are completed in just one day and come with our unmatched 10 – 20 year workmanship warranty and 5 star customer service.
Request A Free Roof Assessment